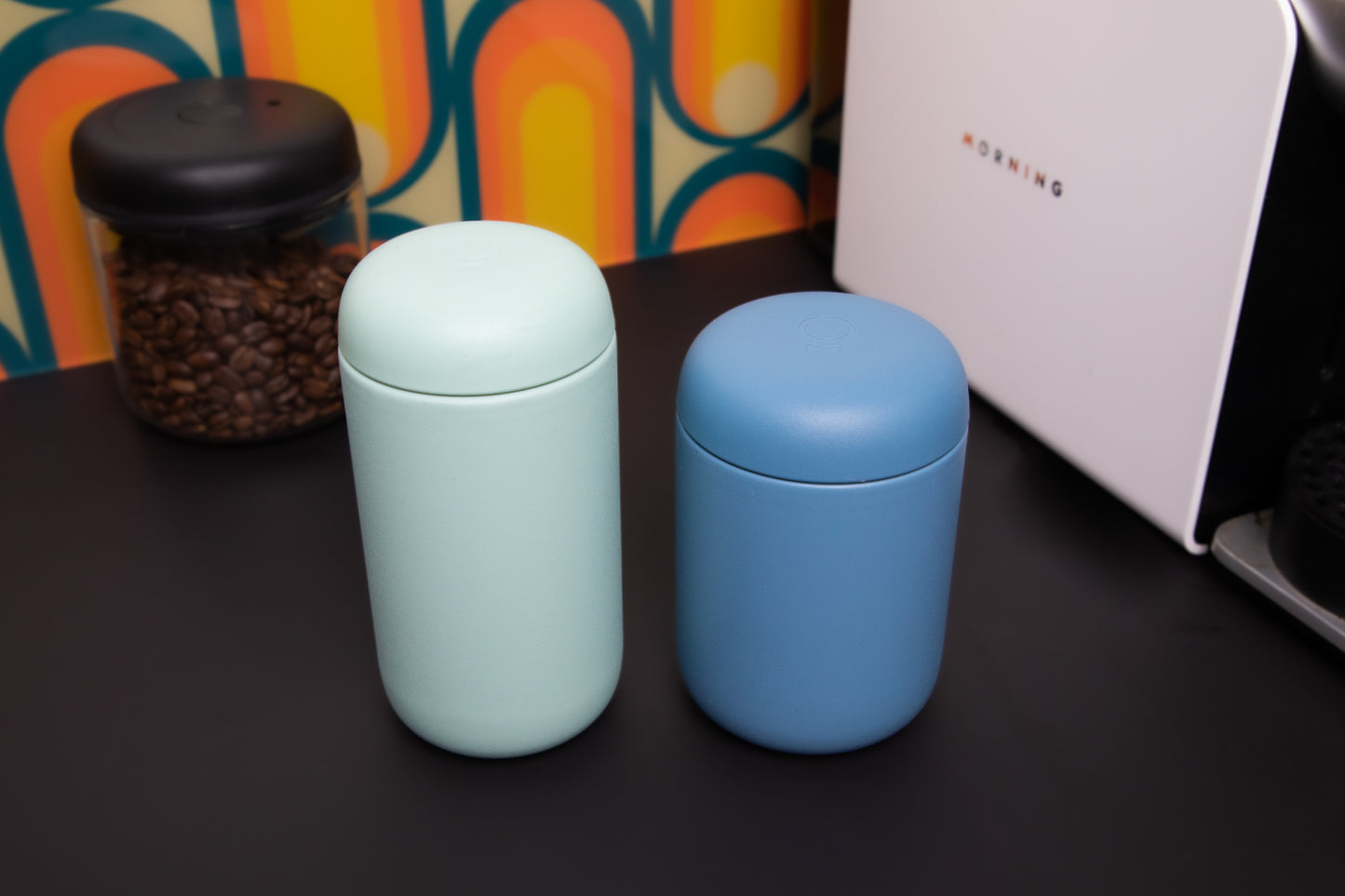 Fellow Carter Travel Mugs: Move vs Everywhere (wide)
The Fellow Carter travel mugs are essential to any daily routine. There are two mugs to choose from, the Move mug or the Everywhere mug (also called the Wide mug). Both have their benefits and unique features, so ultimately whichever one you choose will be down to personal preference. 
The Fellow Carters come with a true tasting ceramic coating in the inside of the mugs. This helps to keep your coffee tasting the way it was supposed to, and not metallic like some steal-based travel mugs. Thanks to the heat-lock double wall vacuum, both Carters keep your drinks hot for up to 12 hours and cold for up to 24 hours. Plus, you can throw it in your bag without the worry of spillages thanks to their leak-proof seals.
Fellow Carter Move:
The Move mug is skinnier and taller than the Everywhere (Wide) mug, making it compatible with most car cup holders and even bicycle bottle holders.
It comes with a splash guard, which helps to prevent coffee splashing into your face whilst you are on the move.  
The Move mug is compatible with the various lids that Fellow have like the Slide and Lock lid. This makes the mug customisable to your preference. 
While the Fellow Carter Move mug is compatible with most standard drippers, it unfortunately is not compatible with the Aeropress or the Fellow Prismo for Aeropress. 
Fellow Carter Everywhere (Wide):
The Carter travel mug is shorter and wider, hence it now being known as Fellow's Wide mug. However, due to its width it cannot fit in most standard cup holders. 
The wider mouth allows for your coffee's full aroma to be enjoyed as you drink, as well as enabling you to gauge the temperature of your drink better. 
The 69mm diameter of the Fellow Everywhere (Wide) mug has been designed to fit most standard manual brewers including the Aeropress and the Prismo for Aeropress. 
Both Carters are great for your daily routine, so ultimately the choice is yours! Plus, there are so many great colours to choose from.